Tips for Passing the BCBA Exam
Board Certified Behavior Analysts (BCBA) start by graduating from accredited applied behavior analysis (ABA) programs — typically a Master of Education (MEd) degree. These degree programs follow curriculum guidelines set by the Behavior Analyst Certification Board (BACB) that ensure people graduate with the academic background and field experience to be eligible to sit for the national BCBA certification exam and to apply ABA therapy for autism cases. It's a major credential as well as a major personal and professional milestone. Here are some tips on passing the all-important ABA certification exam.
Five Tips for Passing the BCBA Exam on the First Try
Whether or not you already work in autism services or applied behavior analysis, you can become a Board Certified Behavior Analyst after you:
Complete an applied behavior analysis program from an accredited college or university.
Take and pass the national Board Certified Behavior Analyst (BCBA) exam.
Not everyone passes the BCBA certification exam on the first try, but here are tips to improve your chances.
1. Choose an Applied Behavior Analysis Degree With a High BCBA Pass Rate
The national average pass rate on the first try for the BCBA certification exam is 65 percent. Of the more than 140 colleges and universities that offer applied behavior analysis programs at the graduate level, only 46 percent of them beat the national average pass rate. All the other schools match or fall below the national average.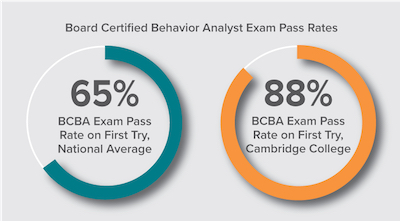 Cambridge College is proud to say that 88 percent of its graduates pass the Board Certified Behavior Analyst (BCBA) exam on the first try. That's much higher than other schools and higher than the national average BCBA pass rates.
Learn more about our Master of Education, Autism / Behavior Analyst, degree.
Source: BCBA Examination Pass Rates for Verified Course Sequences 2013-2017, published by the Behavior Analyst Certification Board (BACB)
2. Choose Academic Substance Over Name
While it's tempting to want a big name school, big names typically come with higher tuition too. Since the Behavior Analyst Certification Board (BACB) sets guidelines for applied behavior analysis programs, including the required Applied Behavior Analysis (ABA) course sequence, the academic material is essentially the same from college to college, university to university. What you want is a college that has caring, supportive professors who are good at teaching working adults, like Cambridge College.
Yes, your master's degree is important, but primarily because it qualifies you to sit for the BCBA exam. Once you have the BCBA credential, that's what employers want to see most.
It's even better if you can earn your degree for less money so that you'll feel less financial stress before and after graduation.
Dr. Bob Ross [at Cambridge College] is a really good professor. The way his classes are lined out, he really helps us prepare for the exam. That's why it's such a high pass rate. There are so many high standards for the program. I feel like everything is in preparation for that exam. If you are doing well in class, passing classes, you have a high chance you're going to pass the exam because of the way classes are structured.
Shaquel Tolson
Cambridge College Behavior Analyst Student 
3. Team Up With Your Coworkers and Classmates
The demand for applied behavior analysts is high. In fact, the demand nationally has more than doubled in recent years.* To help match growth in the profession, organizations that hire applied behavior analysts may offer tuition help to their employees, after even as little as six months on the job.
While you are working on your master's degree, you can often work under people who are already ABA certified and complete your field experience under their direction, which is required to graduate and to sit for the BCBA exam.
Because many of your coworkers will have already completed their degrees and passed the BCBA exam and others will be your master's degree classmates in applied behavior analysis programs, make the most of their advice, recommendations, and study sessions to help increase your chances of passing the BCBA exam on the first try, after you graduate. Cambridge College students provide a valuable network for job openings and for peer support.
Source: US Behavior Analyst Workforce: Understanding the National Demand for Behavior Analysts, Behavior Analyst Certification Board
4. Graduate in a Timely Manner
Autism and applied behavior analysis programs (MEd) align their required curriculums with current BACB standards and the corresponding edition of the BCBA exam. Timely degree completion is essential and a major factor in BCBA exam pass rates because the standards are subject to change.
The sooner you start and finish your applied behavior analysis master's degree program the more likely you are to avoid a shift in BCBA standards.
Cambridge College behavior analyst students work full time in autism services or a related field and strive to complete their master's degree part time in two years so that they can graduate promptly and pass the BCBA exam as soon as possible.
Need ABA career ideas? Read more about where behavior analysts work
5. Join Online Groups for BCBA Test Takers
Technology allows people interested in autism, applied behavior analysis programs, and passing the BCBA exam to connect and share tips and ideas. Search online for groups and resources. There are whole communities of people, just like you, who are interested in working in this fast-growing profession.
Because Cambridge College is in Boston, Massachusetts, our students enjoy a robust community of behavior analysts on and off campus. Massachusetts ranks in the top three states with the highest demand for BCBA professionals.*
*Source: US Behavioral Analyst Workforce: Understanding the National Demand for Behavior Analysts, Behavior Analyst Certification Board
Request Additional Information from Cambridge College
Cambridge College offers an affordable, flexible, and respected Master of Education, Autism / Behavior Analyst, for working adults. Request more information now. We'd be happy to help you take the next step. No GRE required to apply.