Shirin Haddadin fosters STEM learning for Syrian refugee children
Shirin Haddadin teaches science to sixth grade students at Beebe Middle School in Malden, Massachusetts. She is also a student at Cambridge College, who will be completing her Master of Science Education degree this spring.
"My passion for teaching brought me to Cambridge College, which I found to be a very welcoming and supportive environment. Cambridge College has provided me with the knowledge, skills and training to be an effective educator," said Haddadin.
"Also, with the help and guidance from my adviser Prof. John Papadonis who has opened many career doors for me and provided me with continuous support, I was able to achieve my goals in a short time," she continued.
Haddadin always wanted to reach out and help the most vulnerable underserved communities. She explained, "As a teacher I believe that education is one of the key solutions to help improve people's lives and secure a better future."
In 2017, with the help and support from Prof. John and many others, Haddadin and her husband Ayman Halaseh – a professional engineer working with CDM Smith – started a STEM education for refugees project at Zataary refugee camp, the largest camp for Syrian Refugees in the world.
See video: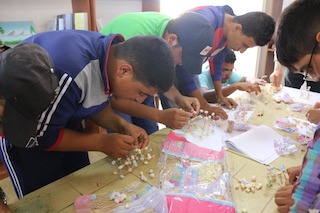 Haddadin shared the goal of the initiative: "We wanted to introduce refugee children to the beauty of science and engineering. What we found after spending time with the students in the camp is how incredibly thirsty they are to learn science. They were like 'dry sponges' and were so ready to apply what they learned."
The couple coordinated with Relief International and UNICEF who run three schools in Zaatary refugee camp in Jordan. Their objectives were:
Build classroom capacity by supplying science teachers with science education supplies.
Build teachers capacity by conducting a STEM (Science, Technology, Engineering and Math) workshop to encourage the science teachers to include STEM in their lesson planning.
What they consider the most rewarding objective: Run a STEM day with the students and introduce them to the beauty of science and engineering with simple, inexpensive and recyclable materials that can be found in the camp. 
The project was very successful and recognized by many organizations and individuals. Haddadin and her husband formed an advisory committee a few months ago, and received assistance from the Engineering In Elementary organization at the Museum of Science and Center of Engineering Education and Outreach at Tufts University.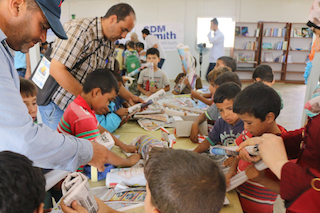 "Our plan for the summer of 2018 is to build upon last year's success and replicate our project on a larger scale with richer content," said Haddadin. "We will purchase science educational supplies for 6 classrooms in two refugee camps, and we are currently developing a STEM teacher guide for the science teachers in Arabic.  Finally, we will organize two STEM days for the kids in the two camps (Zaatary and Azraq)."