How can I help you?
Wednesday, January 17, 2018
Cambridge College

's Tower Square campus is the first school in Massachusetts certified to offer classroom pre-apprenticeship training in hospitality under a program it designed with the help of MGM Springfield. 

Apprenticeships as a way of training people for careers make most people think of the construction trades - for example plumbing, carpentry, steelworking - said William McKinney, director ofthe division of labor standards for the state Executive Office of Labor and Workforce Development.

"We are trying to change that," McKinney said during a press conference Tuesday outside Cambridge College's Tower Square offices. "We are building a number of apprentice programs for many careers. The goal is to bridge that gap between people who need these jobs and the employers who are looking for certain skills."

The program begins in February and will be large enough to accommodate as many as 1,200 students, said Teresa Forte, Cambridge College Springfield director.

Classes range from one week to four weeks and run in cycles. Tuition is $159 to $459 depending on the length of the course, and classes can be credited toward Cambridge College's degree program in hospitality management, Forte said.

"It's serving that need for servers, bussers, security people ... every job that involves hospitality," Forte said.

Based in Boston, Cambridge College is a 45-year-old private nonprofit college that moved its Springfield location into Tower Square five years ago. Cambridge focuses on adult learners, generally folks who have been out of formal education for some time but are looking for skills that can help them get a better job or build a career.

"We are going to give people the skills they need to start these jobs, but also those soft skills: how to prepare for an interview, how to show up for work, how you make sure you keep getting there on time," Forte said.

One class will be called "Springfield concierge," said Wanda Gispert, regional vice president of talent and workforce development for MGM Resorts International. In it, students will learn how to give directions and make recommendations guiding visitors to attractions such as the Springfield Museums.

"We feel like everyone should be able to speak about Springfield, regardless of position," Gispert said.

Mary Kay Wydra, president of the Greater Springfield Convention & Visitors Bureau, helped design the concierge class. She said the bureau's goal is to get visitors to the casino or other attractions to learn about other things to see and do in the region and spend more time and more money here.

Gispert said Cambridge College responded when MGM went out looking for schools to help train hospitality workers. MGM Springfield helped develop curricula for the classes.

"Any hospitality employer in the area is also invited to come work with the graduates of this program," Gispert said. "MGM doesn't have the only need in the city."

Bill Hess, general manager of Tower Square Hotel, agreed there is a general shortage of trained hospitality workers.

Graduates will get a certificate of completion and an opportunity to begin on-the-job apprenticeship programs certified by the state. 

Cambridge College also will host job fairs putting students in contact with employers including, but not limited to, MGM.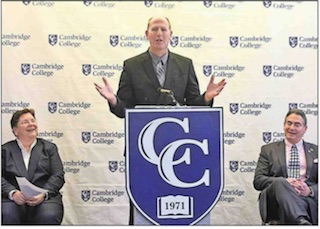 At the podium speaking at the press conference is William McKinney, director of the Executive Office of Labor and Workforce Development for the pre-apprentice program. At left is Teresa Forte, director of Cambridge College Springfield, and on the right is Springfield Mayor Domenic Sarno.