Black History Month Speaker Impresses
Thursday, February 5, 2015
February is Black History Month and to kick it off, we were honored to have K-Rahn Vallatine, an educator, motivational speaker, and author speak at Cambridge College – Southern California on February 1.
Vallatine, once a rebellious teen himself, works with at-risk youth assisting them with better decision-making and positive self-empowerment. His goal is to motivate and promote positive character development in young people affected by drug and gang life. Vallatine incorporates hip hop into his approach with youth. He believes that hip hop is a culture "that carries its own set of values, trends, laws and social norms. It is no secret much of our youth are at odds with much of mainstream society. For justifiable reasons many rebel against the educational system 
(which includes teachers and counselors, as well as the very information being taught in the classroom). They rebel against law enforcement (police, probation officers, judges, and the law itself). And they rebel against our society's workforce."
It is safe to say one of Vallatine's major missions is to help improve the lives of youth and recognize youth value. Vallatine spoke to a crowd of Cambridge College students, staff and faculty as well as local community partners about self-empowerment and how adults and youth can better communicate. He also discussed youth values through hip-hop culture.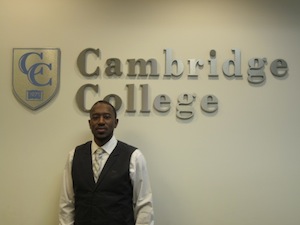 Those present gave a resounding applause at the conclusion of Vallatine's presentation. Audience member Ms. Gamaliel Allen commented, "I was very impressed. It moved me to tears." Dr. Bhasker Sinha added, "It was very interesting."
For more information about K-Rahn Vallatine, visit his website.