Betsy Tregar comments published in national Education Week
Education Week Question:
How can we help English Language Learners meet the Common Core Standards?
Response from Betsy Tregar:
Teachers and Schools
In many schools, there is an assumption that the ESL teacher is responsible to prepare English learners for academic learning, and that once the students have learned sufficient English, they should be able to succeed in all-English classes. This often is not the case. 
English learners often struggle to catch up in a new class. They may seldom ask questions, then fail the unit tests. The content teacher is not certain why, and may assume the ESL teacher over-estimated the students' abilities.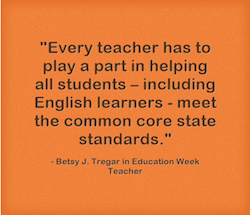 An ESL teacher may observe a former ESL student in a history class and notice that the English Learner mumbles if the teacher calls on him, never raises his hand, and later hands in a messy paper. The ESL teacher may know that this student was on grade level in prior schooling in his first language, and was an active contributor in the ESL classes. 
Both teachers want their students to succeed. Each one is trying hard, and both are frustrated.
Every teacher has to play a part in helping all students - including English learners - meet the common core state standards.  Past national initiatives to encourage content and literacy/language teacher collaboration have failed, because content teachers have not seen themselves as language or literacy teachers. But the current increase in English learners means that we have to try again.   English learners must be 'college and career ready'. Neither content subject teachers nor ESL teachers can do it alone. We need to work together, exchange information, and combine forces. 
School Support and Assessment
A Massachusetts initiative is making inroads. All academic teachers of English learners must qualify for a SEI Endorsement to their educator license. They understand their role; how to use annual WIDA ACCESS test results to plan instruction; what best practices enable English learners to show their knowledge; and how to vary assessments so English learners can show content knowledge. 
Massachusetts English learners are assessed annually using the WIDA ACCESS Test, so teachers share common information in discussing the academic and language progress of their students. 
School-based performance evaluators have learned what to look for as they observe a teacher. Teacher preparation colleges include SEI in their programs, so newly licensed academic teachers have the SEI Endorsement. 
---
Betsy J. Tregar, Ed.D. taught preschool, ESL and bilingual crisis intervention in Boston. She is now a Program Chair in a graduate ESL teacher prep program at Cambridge College.