Careers in Special Education in Boston and Massachusetts
Labor and jobs statistics show strong opportunities for careers in special education in Boston and throughout Massachusetts. It's a career path that offers strong job security and job mobility since cities and towns practically everywhere need special ed teachers.
While most careers in special education exist in the traditional school setting or within school systems, entrepreneurial special ed professionals can also pioneer new roles in other kinds of educational, training, and medical settings.
Learn more! How to become a special education teacher
Top Special Education Jobs in Boston
A master's degree in special education can position you as a viable candidate by these employers hiring special ed teachers:
Both private and public schools
Local school districts and state educational organizations
Providers of community services that work with individuals and families
Daycares, preschools, and afterschool programs
Education-related agencies within both state and local governments
Special ed centers that provide residential care
Providers of other kinds of educational support services and resources
Healthcare settings that serve children before and after diagnoses
In addition, private organizations sometimes offer additional special education tutoring and services to families who feel they need support outside the daily school setting.
Special Ed Career Statistics
According to the U.S. Bureau of Labor Statistics, special education employment will grow 8 percent from 2016 to 2026, which is slightly higher than the growth expected for all occupations overall. In many cases, people start their careers in special education through special education master's programs.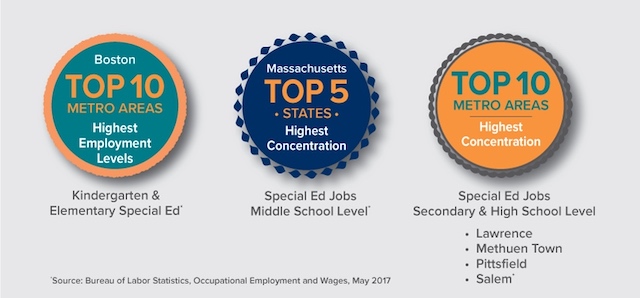 Source: Bureau of Labor Statistics, Occupational Employment and Wages, May 2017. K-elementary: https://www.bls.gov/oes/current/oes252052.htm#st; Middle school: https://www.bls.gov/oes/current/oes252053.htm#st; Secondary: https://www.bls.gov/oes/current/oes252054.htm#st.
Special Education Career Roles
Earning your Master of Education Degree in Special Education (Teacher of Students With Moderate Disabilities) prepares you to fill a variety of career roles, including working as a:
School Resource Room Teacher of Record
Consulting Teacher
Special Education Co-Teacher
The master's in special education at Cambridge College includes more than a dozen required courses and a 300-hour practicum. You'll study critical topics such as how to:
Adapt curriculum materials students encounter in a general education classroom
Collaborate and consult with students, families, and fellow faculty
Follow state and federal regulations and laws related to special ed
Manage classroom inclusion and behavior
Assess and teach exceptional children
Use assistive technology
Special Education Teacher Salary Planning
In addition to the satisfaction of making a real difference in lives of students and families, special education teachers also reap the benefits of a higher income and stronger job security.
In most cases, special ed teachers working with older students earn more than those working with younger students.
Find special education teacher salary information
Cambridge College is a leader in giving current general education teachers and those making a career change the opportunity to become special education teachers — by serving the needs of adult students.
How to Get Started on Your Master's Degree in Special Education
Cambridge College in Boston gives you the opportunity to earn an in-demand special education master's at a lower tuition than other special education master's programs you may be considering. Cambridge College also streamlines your admissions application process. You can apply without taking the GRE or MTEL tests in advance.