Welcome, Alumni & Friends!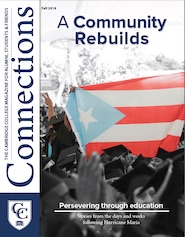 Cambridge College alumni share pride in an extraordinary tradition of opportunity, community, social justice, and leadership. The Cambridge College Alumni Office is dedicated to keeping the alumni of the School of Undergraduate Studies, the School of Management, the School of Psychology & Counseling, and the School of Education in touch with each other and engaged with the College.
Click on the cover image to read the latest edition of Connections, the Cambridge College magazine for alumni, students and friends.
Cambridge College Alumni Association
Member Benefits 
Alumni course tuition discount. As a Cambridge College alumni you will receive a 25% tuition discount on up to 3 courses. The discount applies to individual courses; good financial standing with the College is required.
Boston Young Professionals Association (BYPA) network group - 25% off annual membership. Discount code (CAMBRIDGE). Go to http://bostonypa.com to view upcoming events. 
Springfield Young Professionals Association (SYPA) network group - 50% off annual membership for current Cambridge College students and only $60 annual membership for alumni. In addition, free entry to town and city Chamber of Commerce events. Go to https://springfieldyps.com to view upcoming events.  
Liberty Mutual Insurance - Discounted rates on home and auto insurance. Call 800-699-4283 or visit Liberty Mutual to get a free quote (the College receives a donation from Liberty Mutual when you sign up with them).   
My Hotel Rewards - 10% off booking at over 400,000 hotels and resorts worldwide. Go to http://myhotelrewards.net/cambridgec/ to learn more. 
Enterprise Rental Car - 5% off daily rental rate. Go to www.enterprise.com and enter discount code (OSMB10A)
Montem Outdoor Gear - 10% off online store.  Go to https://montemlife.com and enter discount code ALUMNI10
Cambridge College Custom Diploma Frames - A portion of the proceeds supports the CC Alumni Association.  These frames can be purchased at www.diplomaframe.com/CambridgeWeb. There is now an option with our 50th Anniversary logo.
Cambridge College CC Shop - 10% off Cambridge College merchandise. Please present Alumni Association Membership card for discount (in store only at this time). 
Cambridge College Career Center - Offers free professional development, career advising, and job search support to all alumni. Go to http://www.cambridgecollege.edu/offices/student-affairs to learn more. 
Use of Cambridge College event space - Use of our new premium Boston location event space for your next function. Please us at alumni@cambridgecollege.edu for more details. 
Special invitation to alumni only networking and career events - Look out for alumni-only events on the Alumni Events page at http://www.cambridgecollege.edu/alumni-friends/alumni-events.
Please make sure you present your Cambridge College Alumni Membership Card to get these great deals and discounts. 
For more information regarding the newly established Cambridge College Alumni Membership Card and for further information about these special alumni only programs, please contact us at alumni@cambridgecollege.edu.
---
*Discounts and savings are available where state laws and regulations allow, and may vary by state. Certain discounts apply to specific coverages only. To the extent permitted by law, applicants are individually underwritten; not all applicants may qualify