Software At A Discount
Software at a Discount - Student Use Software Discount Site
Did you know you are entitled to receive software discounts as a member of the Cambridge College community? Students, Faculty and Staff are encouraged to visit the password protected Student Use software site to see if any of the offerings available can aid and assist them in their classwork or work-at-home activities.   As a first time user, you will need to register your Cambridge College issued email address to create a login to enter the site.
Note: Due to the recent changes in Microsoft Licensing, Microsoft Office products are NOT available at this site. Please use the process described here to obtain your copy of Microsoft Office.
How to Obtain Software
1)    Log into the Student Use software site. If this is your first time, use the Register section to verify your Cambridge College email address.


 
2)    Choose the tabs at the top to browse through the software offerings.  Add to Cart when you are ready to proceed.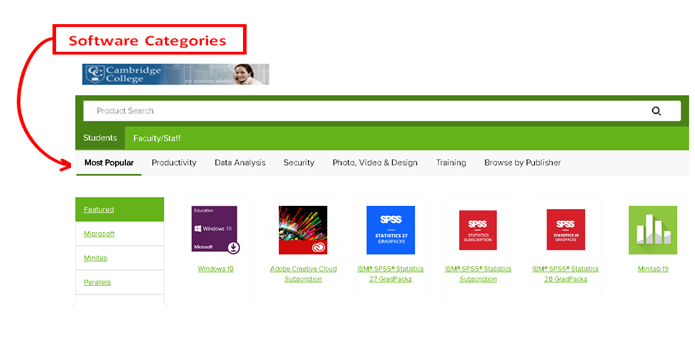 3)    Once you have completed the process you can find your downloads and product keys by clicking  Your Account/Orders link near the top-right of the page. Details including the download link are displayed.
 


 If you have any issues with the site, technical assistance is always available by:
•    Calling (617) 873-0159 or toll-free at (800) 877-4723 Ext.1159
•    Emailing Helpdesk@cambridgecollege.edu