Cybersecurity Programs at Cambridge College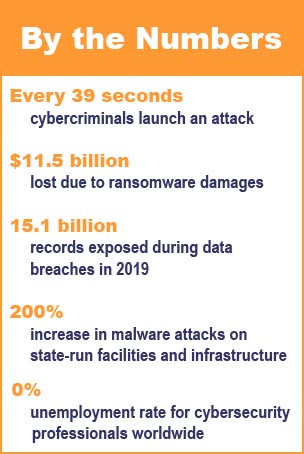 The need for cyber professionals is great. There are an estimated 4 million open positions globally, and over 13,000 in Massachusetts, reported by CyberSeek. Employers are looking to hire diverse talent as quickly as possible with starting salaries ranging from $80,000 to almost $100,000, according to Zip Recruiter, US Bureau of Labor Statistics and Payscale.
Cambridge College is uniquely positioned to train you for a career in the fast-paced cyber and emerging technology industry.
Check out some of our past cybersecurity events and publications, including:
Video of FBI & Homeland Security cyber professionals discussing cybersecurity careers
Our 2021 Annual Cyber Diversity & Inclusion Summit
Learn about our Cybersecurity Programs
Why Choose a Cambridge College Cyber Program
Low tuition – Lowest of 4-year colleges in Boston
NEW Scholarships – Scholarships of up to $7,500 earmarked for eligible cybersecurity program students.
Quick start – Streamlined application, no SAT requirement
Stackable credentials – Jump-start your career: Start with a certificate, then apply those credits towards the bachelor's degree.
Hands-on learning – Real-life challenges with high-caliber faculty working in cybersecurity
Diverse environment – Our faculty, staff and students represent and support diversity as a core principle.
Industry collaboration – Engage with expert practitioners from private industry, the community and government.
Earn industry certifications – Our curriculum prepares students to take certification exams including CompTIA Security+ and Certified Information Security Manager (CISM).
Industry experts – Our curriculum is designed with our Cybersecurity Advisory Council, cyber professionals and thought leaders actively working in business and government
Have questions?
Talk to an Admissions Counselor: 1-800-829-4723
Ready to apply?
Cambridge College Cyber Programs
Network Security Certificate
Cambridge College's Cyber Certificate Programs equip students with the core abilities employers from far-ranging industry verticals are actively seeking. Certificates are designed for students at any stage of their career — from recent high school graduates to seasoned professionals. You'll be taught by faculty with strong field experience who share your passion for combatting cybercrimes.
You'll learn:
How to analyze network communication protocols, network analysis tools, and hacking methodologies
Basic server configuration methods including stand-alone and virtualized environments, and support of WAN and LAN networks
Installation and use of firewalls, data encryption, anti-virus software and intrusion detection
How to analyze and evaluate network security threats and vulnerabilities
Knowledge of common attack tools (Immunity CANVAS, Burp, SET, Metasploit, Nmap, Nessus) and defensive tools (Snort Intrusion Detection System (IDS)/Intrusion Prevention System(IPS), tcpdump, Wireshark, Security Onion IDS Linux Distribution)
Forensic tools and techniques for attack reconstruction
Career Opportunities
A Network Security Certificate from Cambridge College qualifies you for in-demand positions such as:
Computer Network Defense Analyst or Infrastructure Support
Network Administrator
Penetration Tester
Red Team Technician
Systems Administrator
and more
Fast Track to your Bachelor's Degree
100% of your certificate credits can be applied towards the Bachelor's Degree in Cybersecurity at Cambridge College.
Interested in curriculum, tuition, and program requirements?
Bachelor's Degree in Cybersecurity
Current cyber industry experts will provide you with the fundamental knowledge and abilities employers are looking for in today's marketplace. You will learn how to design and build secure environments using networking, server, client systems, and firewall skills, and how to quickly adapt to changing and emerging technology needs.
You'll learn:
Computer and Network Security
Auditing and Risk Management
Incident response and Digital Forensics investigations
Emerging Technology and Cybersecurity Risk
Enterprise and Cloud Security
Governance, Risk and Compliance
Policies, methods and best practices used to secure personal data
Career Opportunities
As a graduate, you will have the ability to utilize security tools to configure, monitor, and analyze network systems and applications, while being able to effectively communicate to nontechnical managers, directors, and above. A Bachelor's Degree in Cybersecurity from Cambridge College qualifies you for in-demand positions such as:
Information Security Manager
Cyber Security Analyst
Security Analyst
Network Administrator
Security and Risk Compliance Analyst
IT Auditor
Penetration and Vulnerability Tester
Interested in curriculum, tuition, and program requirements?