Mascot Books Publishes "Hormones, Hair Elastics, and Helmets: The Art and Science of Successfully Coaching Female Athletes"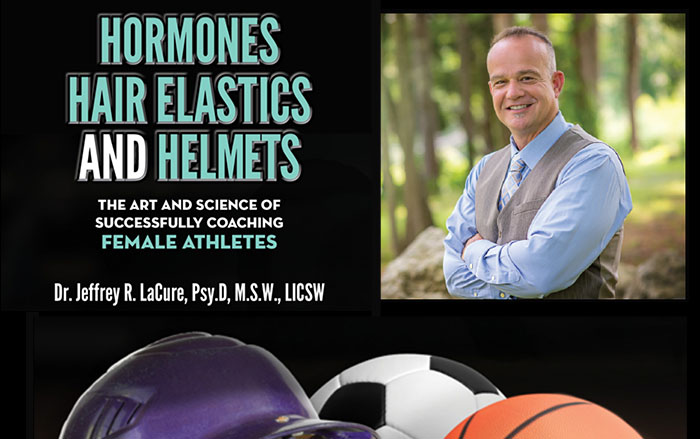 Tuesday, November 14, 2017
Mascot Books announces the release of Hormones, Hair Elastics, and Helmets by Dr. Jeffrey LaCure.
Hormones, Hair Elastics, and Helmets is the first book of its kind that combines an extensive review of the literature and research with practical, hands-on coaching advice and recommendations.
Readers will appreciate the historical and social context of coaching female athletes. Successfully coaching female athletes is a unique, challenging, and rewarding experience.
Dr. Jeff LaCure, Psy.D, M.S.W., LICSW is a sports psychologist, clinician, psychology professor, and successful high school and collegiate coach with almost 500 career wins as a basketball, football, and softball coach. He is the author of several books including Adopted Like Me, Remembering: Reflections Of Growing Up Adopted, Raising Our Children's Children, Room In The Heart, and co-author of A Father's Advice with Love with Mike Tougias (Author of The Finest Hours, made into a successful Disney movie). In 2018, Dr. LaCure will be releasing The Lifelong Search for Oz.
Dr. LaCure is currently a senior instructor in the Graduate Counseling Psychology program for Cambridge College. He maintains a successful private counseling practice in Grafton, Massachusetts, and is the founder and director of the LaCure Basketball Academy. Dr. Jeff LaCure is an active member of the Massachusetts Basketball Coaches Association and a member of the MIAA Partners In Prevention. He is called on nationally to provide coaching clinics for high school and collegiate programs and provides leadership training to athletes at the youth, high school, and collegiate levels. Dr. LaCure is the father of four children, all who, to no one's surprise, participate in athletics.
Dr. LaCure's upcoming events:
11/6/16     MAHPERD State Conference, D.C.U. Center, Worcester, MA  (12-2:00)
11/16/17   NHS State Conference, Holy Cross, Worcester, MA  (10-1:00)
12/1/17     MIAA Teen Wellness Summit, Franklin, MA  (8-12:00)
12/9/17     Basketball Hall Of Fame, Springfield, MA  (Book Launch and Book Signing: 11-1:00)
Learn more about Dr. LaCure at www.drjefflacure.com.
To set up an interview, reading, signing, or for information regarding Hormones, Hair Elastics, and Helmets, please contact Dr. LaCure at lacurej@yahoo.com.
For more information on this book, download the flyer.
Hormones, Hair Elastics, and Helmets is registered with the American Wholesale Book Company, Baker & Taylor, Follett Library Resources, and Ingram, and available online with the following retailers:
Amazon.com
BAM
Barnes & Noble