Cambridge College Springfield participates in navy roundtable
Dina Morris, Assistant Director of Cambridge College Springfield participated in a roundtable discussion with William O'Donnell in June 2017. O'Donnell is a navy senior executive responsible for administrative management and support to the Office of the Secretary of the Navy, its 6,000-member Secretariat, staff offices, field activities and supported organizations.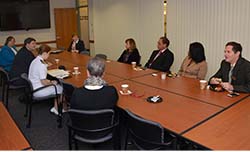 The roundtable discussion served as a platform to discuss the Navy, its people and its importance to national security and prosperity. Higher education professionals were invited to discuss the mission of their organization and their support of active duty military personnel, veterans and dependent family members. Cambridge College offers many veterans benefits, including tuition discounts to military personnel.