Arts & Culture at Cambridge College
Elevating our vision of diversity, equity and inclusion since 2011
In 2011, Cambridge College officially launched efforts to introduce the visual and performing arts as an integral experience for the entire Cambridge College community.  Over time, this effort evolved to become an annual series of art and cultural programs that range from exhibitions to performances — designed to engage, inspire and reflect the multicultural community that we proudly serve. Through the combined activities and leadership of the Arts and Culture Series and the McCormack Chair Initiatives, Cambridge College now celebrates the arts and the important role it can play in elevating our vision of diversity, equity and inclusion.  
Arts and Culture Series
Open to the public and available for all members of the College community, the Arts and Culture Series collaborates with visual and performing arts organizations and seeks to explore timely and important community-building subject matter. Past themes have ranged from challenges to women's rights to the role of art as trauma therapy to the cultural significance of diversity in America. See past events [link to A&C Archives]
McCormack Chair Events and Activities
The Elizabeth J. McCormack Chair of Humanities, currently held by Professor Rebecca Heimel is charged with fostering the humanities across Cambridge College. Through annually themed programs, the McCormack Chair provides students and faculty with opportunities to expand their academic experience to include critical issues in the humanities. Past activities are highlighted and explored themes on immigration, identity, bodies, place, and democracy.  See past events [link to MC Archives]
To learn more, please contact us:
Event Spotlights
Winter 2021 Event
Drawing Attention: The Art of Rajiv Fernandez
New York based artist and architect Rajiv Fernandez presented his artwork, personal story and artistic process. He discussed cultural stewardship and encouraged the audience to consider the power of images to create "good trouble."
Spring 2021 Events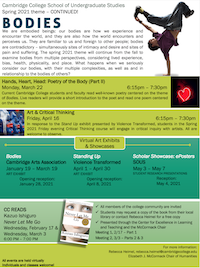 2019 Events
Click on links for more information.