EMT-Basic Program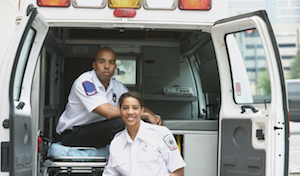 EMS Academy offers Emergency Medical Service (EMS) training at the main campus of Cambridge College in Boston. The EMT-Basic programs run year-round with 12-week, day and evening programs as well as 6-week intensive sessions
 
Summer Session 1 (two options)
6-Week Accelerated Hybrid EMT Course (24 days!)
6/2/21 - 7/15/21
Monday through Thursday: 9am - 4pm (with 2 select Fridays)
The Perfect 12-Week Hybrid Traditional Night Summer EMT Course:
Cambridge College 12-Week EMT Course (for ALL Students & College Students)
6/1/21 - 8/19/21
Nights: Tuesdays & Thursdays: 6pm - 10pm and Saturdays: 9am - 4pm
Summer Session 2
6-Week Accelerated Hybrid EMT Course (24 days!)
7/13/21 - 8/26/21
Monday through Thursday: 9am - 4pm (with 2 select Fridays)
Course Description
EMS Academy uses the Jones & Bartlett Learning Management System which includes Interactive Lectures, eBook Emergency Care and Transportation of the Sick and Injured 11th Edition, Audio Book, Flash Cards, PowerPoints, Virtual Ride Along with Videos, BLS Skills Demonstration Videos, Quizzes and Exams to master their didactic skills.  We incorporate a Zoom Orientation to ensure you are confident using this system!
Students will complete the didactic distributive online program and transition to in-person Skills Labs preparing you for the Massachusetts State Practical Exam.  This format and program have been extremely extraordinarily successful with repeated 100% Passing their MA State Practical Exam.
EMS Academy's Hybrid EMT Courses are designed for all students who want to add to and achieve their career paths and receive an EMT certification. This EMT course prepares students to take the Massachusetts psychomotor examination and the National Registry of EMTs written examination. Students will complete the didactic aspect of the program via a distributive online program and then transition to in-person Skills Labs at Cambridge College location for hands-on practical skills training.
State of Massachusetts EMT Course Information
EMT-Basics provide basic emergency medical care and transportation for critical and emergent patients who access the emergency medical system. EMTs possess the basic knowledge and skills necessary to provide patient care and transportation, and they function as part of a comprehensive EMS response under medical oversight. EMT-Basics perform interventions with the basic equipment typically found on an ambulance. The initial training course for EMT-Basics consists of Didactic (classroom) learning that follows the National EMS Education Standards published by the National Highway Traffic Safety Administration (NHTSA).
In order to be eligible to be certified as an EMT-Basic, a person must:
Be at least 18 years of age
Abstain from the abuse of drugs which impairs professional judgment and/or practice
Be free of any physical or mental impairment or disease which could reasonably be expected to impair the ability to be an EMT, or which could reasonably be expected to jeopardize the health and safety of the patient
Meet the training requirements applicable to the level of certification
Obtain National Registry of EMTs (NREMT) certification by successfully completing a Massachusetts psychomotor (practical) examination and NREMT cognitive (computer-based) examination
Once an individual obtains NREMT certification, they must apply for Massachusetts certification in order to work as an EMT-Basic in the Commonwealth.
For more information, schedules, and to register for the course, visit EMSAcademy.biz
Once you are enrolled in your EMT Course, you will receive a Welcome Email on a Friday before your course begins with detailed information specific to your Online or in-person EMT Course.
About EMS Academy
EMS Academy staff has been educating EMT and Paramedic students since 1993, offering the very best all-inclusive EMS Educational experience available. EMS Academy students learn to master the newest practices in emergency medicine using the most current curriculum and technology, and are inspired to raise the standards of pre-hospital patient as exceptionally trained, confident and compassionate professionals.  EMS Academy is an Accredited Training Agency with the Department of Public Health, Office of Emergency Medical Services and approved by the Massachusetts State Agency for Veterans Education Benefits.