RAVE Emergency Alert - Update Your Information Through MyCC
Cambridge College RAVE Emergency Alert
Cambridge College has partnered with RAVE Emergency alert systems to provide the community with the ability to receive text message alerts in the case of an emergency on campus.  Students, Faculty, and Staff can use the below instructions to sign up for alerts by text message.  There are additional RAVE FAQs to assist you with this process.
Update Your Rave Contact Information
Sign into MyCC at https://mycc.cambridgecollege.edu with your SSO Login.
Click the Student Success tab at the top of the home page

 On the left hand side of the Student Success landing page, click Rave User Portlet.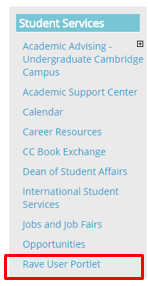 Your Cambridge College email address will automatically be registered to receive alerts. To add a cell phone number and/or alternate email address, click the Update Info button at the bottom of the page.
5. Update the fields with your information, and click Save when completed.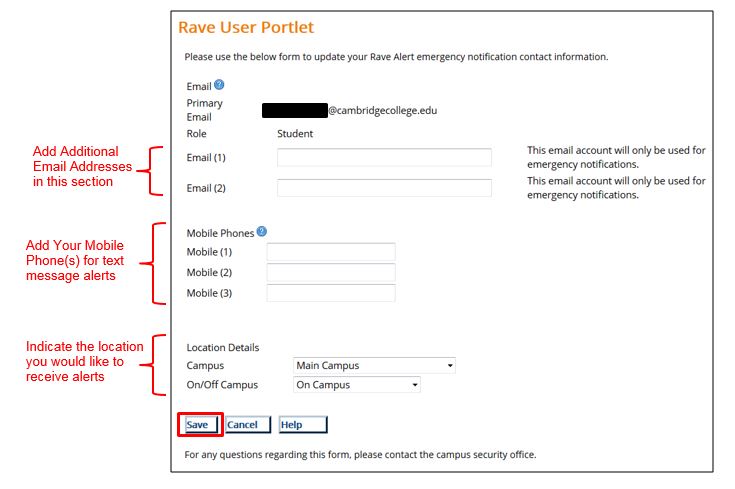 You will receive a message indicating you have successfully updated your information.
Delete Your Rave Contact Information
Your Cambridge College email address will automatically be enrolled as long as you are affiliated with the College and cannot be removed.  However, if you would like to delete your additional email addresses or phone numbers: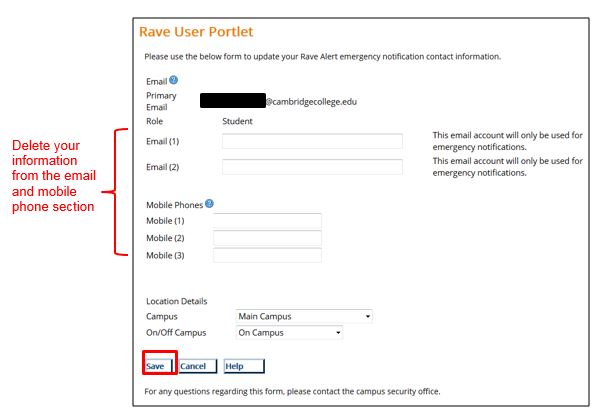 Follow steps 1-4 above to log into the RAVE Portal.
Delete your information from the Email and Mobile Phone sections
Click Save when completed
If you have any problems with this process, please review the RAVE FAQs and then contact the Cambridge College Helpdesk at 1-800-877-4723 ext. 1159 or directly at 617-873-0159 to reach a technician. You can also email Helpdesk@cambridgecollege.edu with your issues.