For new principal of Muraco Elementary, kindness is a top priority
Tuesday, February 6, 2018
Leslie West, the new principal of Muraco Elementary School, is no stranger to Winchester. In fact, she knows the town and its schools inside out.
"I know the people, I know the facilities, I know the larger organization and how things work in the town of Winchester and for public schools here," said 41-year-old West, who grew up in Winchester and currently lives here with her family. "That made it for an easy transition from middle to elementary school." After serving as an assistant principal of McCall Middle School for seven years and an interim principle of Muraco, West was appointed to be the new principal of Muraco on Dec. 21.
"She is a talented educational leader who is dedicated to supporting her staff," wrote McCall Principal Jorge Goncalves in an email to the Winchester Star. "She is compassionate, caring, dedicated, professional, and very talented. Her ability to communicate clearly and concisely in a warm, welcoming manner has to be one of her strengths."
At McCall, she was in charge of MCAS testing each year and scheduling many school events, including the annual Martin Luther King. Jr. assembly.
World-class education in Winchester
West describes the education she received in Winchester growing up as world-class. It was instrumental in preparing her for her journey in educational leadership. She got her undergraduate degree from Westfield State University, and mid-way through her freshman year knew she wanted to pursue a career in education.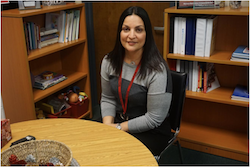 "My mom was an educator, so it was a natural route for me," she said.
She continued with a master's degree in educational leadership from Boston's Cambridge College. During her 10 years working in Lawrence Public Schools, West served as a middle and elementary school teacher, a curriculum facilitator, and an assistant principal for kindergarten through grade eight.
For West, change is a catalyst to growth, and she was set on developing her leadership skills. So she returned on her home turf, already an experienced educator, to contribute to the school system that molded her.
"What made it wonderful is that I'm a stakeholder here," said West, whose children are at McCall Middle School and at Ambrose Elementary School. "I live here, I grew up here, I want the best of the best for Winchester."
Despite the socioeconomic disparity between Lawrence and Winchester students, West remarked that most of the kids in both towns wanted to accomplish the same thing - - do well and find success.
Promoting kindness and caring
Now several weeks into her new role, West is sharpening her vision for Muraco. One of her immediate goals is one that may be tough to measure in tangible results, but one she believes is of highest priority. She hopes to instill in kids kindness and the desire to care for each other and adults around them. Right as you walk into the school, you'll likely be struck with a colorful wall of paper hearts, each featuring a drawing and words expressing "what's in the student's heart," West said.
This year West is working with all the fifth grade teachers in the district to help realign the new science curriculum, which incorporates more inquiry-based elements, less memorization, and more "learning how to be a scientist," she said. A newly piloted BYOD, or Bring Your Own Device, initiative implemented across grades five through eight also requires West's attention.
While West agrees that Muraco may benefit from a makeover of its facilities, she likes the one floor layout of the building.
"Everybody sees everybody every day," she said. "However it's renovated, I'd like for it to still have that community feel."
With the discussion about school start times gaining a momentum in Winchester and potential challenges the change may have for elementary school children, West stands behind the research.
"My gut tells me we should probably go with what research tells us," she said, pointing out the health benefits for middle and high school-aged students.
The proposed time would move Muraco's start time from 8:30 a.m. to 8 a.m. "I'm personally comfortable with that," she said. "But I'm just one voice."