MBA Requirements: What it Takes to Get Accepted
Earning a Master of Business Administration (MBA) degree will give you a competitive edge in the job market, open the door to new careers, and significantly boost your earning potential. Even more, it will instill critical thinking and leadership skills that will enrich your life and career long after you graduate. What does it take to get accepted to an accredited MBA program that will give you the maximum return on investment? Below we'll take a closer look at graduate school admission requirements and what you'll need to get started on your MBA degree.
What are the Requirements for an MBA?
MBA admissions officers will look at a number of factors when selecting business school applicants. These are some of the key requirements to keep in mind when you apply to an MBA program.
1. Undergraduate Education
Most MBA programs will require a bachelor's degree for admission. While an undergraduate major in management, accounting, or other business-related area can give you an advantage, students from all types of majors can make excellent MBA candidates. Your grades will definitely be an important factor, with a 3.5 GPA being a solid average.
2. Graduate School Exams
Many business schools require you to take standardized exams, such as the Graduate Management Admission Test (GMAT), to test your readiness for the MBA. Taking the GMAT requires intensive preparation and can be one of the key deciding factors in your MBA application. Cambridge College does not require a GMAT or other standardized graduate school tests for admission.
3. Work Experience
Your college grades are important, but MBA admissions officers will look at more than academic performance. Work experience, especially in business and business management, is another important part of your MBA application. A strong resume will help demonstrate that you have the real-world business skills to be a successful MBA candidate. Be sure to highlight your professional accomplishments and any ways that you have contributed to the success of your organization. 
Find information about career opportunities for MBA graduates in Boston.
Leadership Potential
In addition to experience, graduate schools are looking for MBA students with the leadership skills to succeed in business. For example, if you've ever started your own business, or served as a team or project leader in your workplace, these experiences will help show that you take initiative and are serious about progressing in your career. It's also important to demonstrate that you are a team player with strong communication skills who can collaborate on group projects.
MBA Program Interview
As part of your MBA application process, you'll be asked to complete an in-person interview with one or more representatives of the business school. Cambridge College, for example, asks MBA candidates to interview with the School of Management Admissions Committee and/or program chair, dean, or regional center director. Expect to hear questions such as: "Why do you want to earn an MBA?" "Why are you interested in this particular school or program?" and "What do you like most about your career?" Preparing for your interview is the best way to reduce nerves and do your best.
Personal Statement
In addition to an interview, MBA programs will typically request a written personal statement. Cambridge College asks for a two-page description of your work experience, professional goals, and why you are interested in pursuing an MBA. Your personal statement is another opportunity to show your personality, talk about your achievements, and demonstrate why you make a strong MBA program candidate.
Professional Recommendations
Most MBA programs will also ask for two or more professional recommendations as part of the admissions process. Be sure to choose business colleagues who can speak effectively to your experience and skills. Your MBA recommenders should be able to speak in detail about your qualifications, strengthening the same points you made in your personal statement and interview. Consider helping your recommenders by providing them with your résumé, talking points, and a list of the schools you are applying to. Always remember to send a thank you note.
MBA Requirements Checklist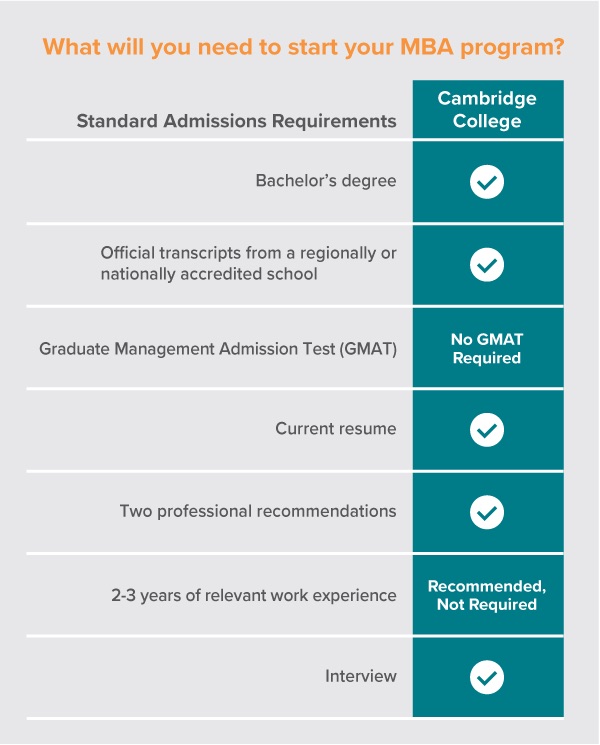 Starting Your MBA at Cambridge College
With an average age of 37, Cambridge College specializes in teaching adult learners. We understand that many working professionals do not have time to deal with lengthy application and admissions processes. Our MBA program requirements are set up to help you apply easily and get started right away – no GMAT required. If you're transferring from another graduate program, we also offer generous transfer credit policies to help you get the greatest value out of your education so far.
View 10 Reasons to Earn Your MBA at Cambridge College
Take the Next Step Toward Your MBA
Contact Cambridge College to start your MBA degree and take your career to the next level. We offer convenient evening and weekend classes, affordable tuition, and do not require standardized graduate school exams for admission.
Learn more about the MBA degree program at Cambridge College.