New Printing System
Cambridge College has a centrally managed printing system that can be accessed at any public-facing printer on campus. Students are given 200 pages free per semester, beginning at the start date for each semester. These dates will be posted to MyCC as a reminder when your allotment period will begin and end. The free page-balance does not roll over from semester to semester.
Please note you will only be charged for what you print, not what is in the queue. All print jobs expire after 10 hours from the time they are submitted.
Beginning in January 2019, all students who wish to print or copy will need to login using their network login credentials and password--FirstName.LastName00, the same they would use to log in to the computer. Regional guest accounts will no longer be able to copy or print.
To use this system to print documents, follow the instructions below:
                  1. Login to any computer in the computer lab using your username and password. If you can't remember your password and need it reset, contact the helpdesk at https://helpdesk.cambridgecollege.edu or by sending an email to Helpdesk@CambridgeCollege.edu
                  2. When you're ready to print, make sure you've selected the 'FollowYou' printer from the drop down menu: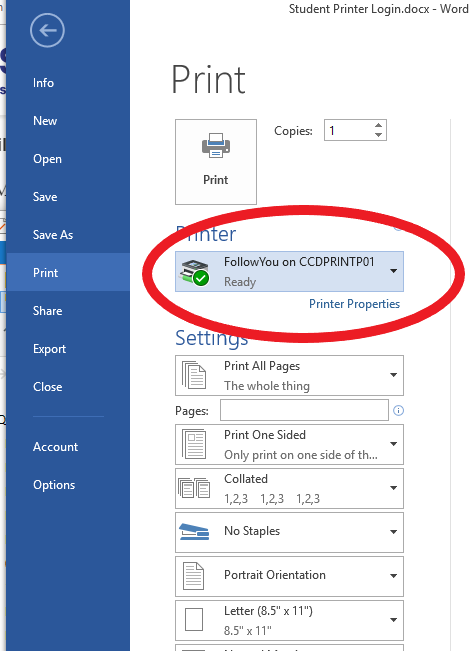 ​
                  3. Any printer in any computer lab can be used to print. Tap your badge on the access point, or manually enter your student ID on the main screen. The cost of the print job will be displayed. Select the item you wish to print and hit 'start' to release the job and print the document.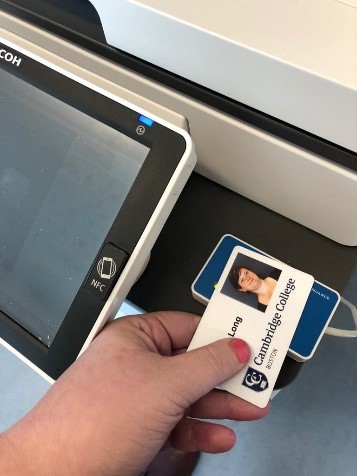 Please note:
Photocopies count toward your 200-page quota.
Cambridge College does not currently offer color printing or pages larger than standard letter-size (8.5"x11").
To add money to your account after hitting your 200-page quota, follow the instructions here: Printing System -- Add Money