Autism/Applied Behavior Analysis Degree Program (MEd)
Program Description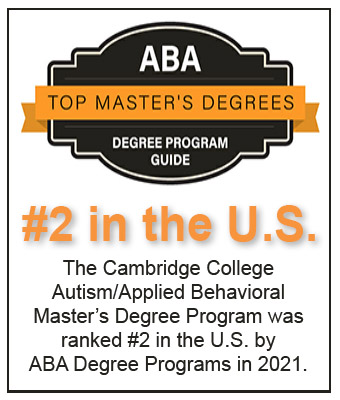 The autism and applied behavior analyst degree program at Cambridge College prepares you to sit for the national Board Certified Behavior Analyst (BCBA) exam, including completing the required Verified Course Sequence (VCS). The master's degree curriculum is divided into two parts — autism / special education courses (14 credits) and ABA course sequence (24 credits). As an applied behavioral analysis student at Cambridge College, you'll learn about the history, prevalence, and diagnosis of autism as well as assessment methods and clinical applications of ABA therapy for autism as well as the legal and ethical requirements for professional applied behavior analysts.
Cambridge College Autism and Applied Behavior Analyst Program Highlights
Because Cambridge College specializes in offering degree programs for adult students juggling work and family demands, this applied behavior analysis MEd degree is designed to make academic progress and graduation as straight-forward as possible:
Take online and on-campus classes, including evening and weekend options. Cambridge College truly gets adult students and understands the time pressures they face.
Apply without taking the GRE. Thanks to a no-hassle admissions application process, you can begin your behavior analyst degree sooner.
Make steady academic progress. You can graduate in two years. The curriculum aligns with current certification standards and the corresponding edition of the BCBA exam.
Learn from faculty with strong field experience. Applied behavior analysis faculty at Cambridge College bring years of hands-on ABA experience, including the clinical application, leadership, and ethical considerations that come up in using ABA for autism.
Bond with your fellow students. Cambridge College requires all applied behavioral analysis MEd students to hold active employment in a relevant, related field with at least one year of experience in an ABA treatment setting. That means many of your coworkers will also be your classmates, which builds great connections, study partners, and peer support.
Make the most of the convenient location. All of our classroom locations are near public transportation and/or free parking.
Pay less tuition compared to similar applied behavior analysis programs. Cambridge College proudly offers lower tuition to graduate students than other options you may find. Because BCBA certification guidelines dictate the ABA content for applied behavior analysis programs, your decision of where to earn your degree rests almost entirely on where you can most affordably graduate with an autism behavior analyst master's degree. 
Autism and Applied Behavior Analyst Degree Learning Outcomes
Upon completion of your Master of Education, Autism / Applied Behavior Analyst degree from Cambridge College, you graduate with these important outcomes:
Prepare and be eligible to sit for the national Board Certified Behavior Analyst (BCBA) exam.
Demonstrate knowledge of applied behavior analysis (ABA) and associated scientific principles that govern human behavior and the treatment of individuals with autism spectrum disorders (ASD).
Use applied behavior analysis strategies to meet the needs of individuals with autism.
Create, implement, and evaluate individualized plans for ABA therapy for autism in a variety of settings for individuals across the autism spectrum.
Understand all clinical, educational, and ethical issues related to the application of ABA strategies in a broad range of treatment contexts and behaviors.
Communicate and collaborate effectively with ABA clients, their families, and other educational and medical professionals.
Applied Behavioral Analysis Salary Ranges and Careers
Nationally, the demand for behavior analysts with proper credentials is increasing. Between 2012 and 2014, the demand more than doubled, and this growth trend in applied behavioral analysis jobs continues.*
The demand includes the needs for more ABA professionals who have graduated from autism and applied behavior analyst degree programs (MEd) and who have passed the BCBA exam. In fact, among the available behavior analyst credentials, the BCBA credential has seen the largest increase in demand.*
Whether you are already working in autism or a related field or you're looking for a new in-demand profession, this graduate degree program from Cambridge College prepares you for a variety of behavior analyst jobs and career paths.
Massachusetts is one of the top three states with the highest and fastest-growing demand for applied behavior analysts.*
The BCBA average salary nationally is $56,730.* However, industry association reports list common behavioral analysis salary reports above $75,000 and even above $145,000.* With the growing demand for behavior analysts and with even a few years of work experience, experts predict good salary gains, especially in the Cambridge and Boston areas.
Applied behavior analysis is a growing and versatile career field. In fact, there are so many other career types that now sometimes encompass ABA therapy for autism, that the U.S. Bureau of Labor Statistics does not yet track behavior analyst as a stand-alone professional designation, even though the national demand for people with BCBA certification continues to grow.
However, the highest concentration of ABA for autism jobs come from the following types of employers:
Healthcare, including treatment planning, case management, and treatment
Educational services, both within traditional school settings as well as with private providers of ABA services to individuals and families
Social assistance, including therapy-type skills, other educational settings such as workplace training, and treatment planning in community service settings**
Other options for applied behavioral analyst careers include working for:
Insurance carriers and related fields
Local government, including public administration
Research organizations, including data analysis**
*Source: US Behavior Analyst Workforce: Understanding the National Demand for Behavior Analysts, Behavior Analyst Certification Board
**Sources: Payscale.com and Association of Professional Behavior Analysts report, 2014
Example Applied Behavior Analysis Courses
Cambridge College required courses in autism and applied behavior analysis topics include the following:
Autism: History, Prevalence, Diagnosis, and Characteristics
Social and Psychological Perspectives in Autism Spectrum Disorders
Collaborative and Consultation Techniques
Basic / Advanced Applied Behavior Analysis
Ethics in Applied Behavior Analysis
Research Methods in Applied Behavior Analysis
View the full Cambridge College autism and applied behavior analysis program curriculum.
Applied Behavior Analysis Scholarships and Financial Aid
Some 60 percent of Cambridge College graduate students qualify for financial aid from a variety of sources, which makes pursuing a Master of Education degree possible for so many students. Take time now to learn more about financial aid through Cambridge College, including grants, scholarships, loans, and more.
Important Note: Applied behavior analysis employers typically offer tuition assistance to their employees. Get insights into how employer tuition assistance programs work.
Related Programs at Cambridge College
If you're still exploring your options for behavior analyst programs, consider these additional master's degrees offered through Cambridge College:
Curriculum
---
Course sequence varies by term of entry; below is the sequence for students entering in the spring term. Courses must be taken in the order delineated here unless otherwise approved by the Program Chair.
Theory and Philosophy in Behavior Analysis
The course introduces students to the philosophy underlying behavior analysis (e.g., radical behaviorism). Basic assumptions about the nature of behavior will be reviewed and described from a behavior analytic viewpoint. Likewise, basic principles of behavior will be used to interpret novel, complex, or behavior that is seemingly beyond the scope of behavior analysis. Issues related to equity, inclusion, and diversity will be addressed throughout the course
Autism: History, Prevalence, Diagnosis and Characteristics
This course examines current research and theoretical models that focus on typical and atypical development of children. Emphasis is on understanding the child with autism in terms of psychological, intellectual, social, and physical development. The historical problem of biological versus psychological causation of autism will be examined along with trends in autism research that continue to this day. This course will focus on autism as a neurological developmental disorder characterized by an impairment in social interaction, communication skills, and in behavior. Autism is acknowledged as a "spectrum" disorder meaning that children with autism may range from extremely low cognitively to highly intelligent with little or no language to communicate to being highly verbal. The cause(s) of autism is not known at this time, with 9 out of 10, for whom the cause is idiopathic. Autism Spectrum Disorder is the fastest growing developmental disability with 1 in 150 children now being diagnosed with autism. It is more common than Cerebral Palsy, Down Syndrome, and Childhood cancers combined.
Ethics in Applied Behavior Analysis
This course prepares students for the ethical and professional practice of Applied Behavior Analysis. Students will learn the importance of ethical conduct as it relates to the professional practice of tasks identified in the Fifth Edition Task List. Students will learn about the foundations of ethical and professional behavior to endure a high quality of practice in both behavior analysis and education in general. The Behavior Analyst Certification Board (BACB) Professional and Ethical Code for Behavior Analysts will be reviewed and discussed in detail. This course provides credit hours towards eligibility for the behavior analysis certification examination.
Communication Disorders - ASD
Communication-based disabilities are a diagnosing criteria of Autism spectrum disorders, diagnoses with similar characteristics, and are commonly seen in severe levels of developmental delay. Not only do communication difficulties greatly impact life-long educational, social, and vocational opportunities, they are closely associated with the presence of challenging behaviors such as aggression and self-injury. Following a review of typical and atypical language development, physiological, environmental, and psychological theories of language development will be presented. This course will examine criterion-based and peer-normed communication assessments, effective language-based teaching strategies for children with severe disabilities, and alternative communication forms such as picture exchange communication system, sign language, and other non-vocal communication systems. In addition, students will be introduced to the following: Provision of family-centered services; impact of culture on work with individuals with disabilities and their families; and recommended practices/framework for assessment and facilitation of communication for individuals with ASD.
Basic Principles of Behavior
Prerequisite: ABA 714A. The course introduces the science of behavior analysis and the basic concepts and principles of behavior analysis. The major principles (e.g., reinforcement, punishment, extinction) are reviewed in detail, and procedures derived from those principles are covered in detail. Students will learn procedures for increasing behaviors and establishing behavioral repertoires, as well as procedures for reducing problematic behavior with an emphasis placed on nonpunitive procedures. Procedures for selecting, defining, and measuring behavior will be covered.
Social and Psychological Perspectives in Autism Spectrum Disorders
Social deficits are one of the defining characteristics of autism, including Asperger's syndrome, and most are almost always associated with other autism spectrum disorders and similar diagnoses. This course will introduce candidates to social skills intervention through a whole family approach focusing on both students with deficits associated with global delay as well as higher functioning students who demonstrate deficits primarily or exclusively in the area of social skills. This class will take into account the needs of not only the student, but also the siblings, parents, separated parents, extended family relationships, household economic needs, and culturally specific variables that make up the landscape of the dynamic American family.
Behavior Assessment
This course reviews basic concepts and principles of applied behavior analysis (ABA), building upon knowledge learned in Basic ABA I. An emphasis will be placed on the application of concepts and principles to real world situations.
Research Methods in Applied Behavioral Analysis
This course focuses on research design and study of human behavior. Students will learn about the characteristics of science and the rationale for having behavior as a focus. Students will be exposed to issues related to measurement, specific research designs, and important issues (such as variability) associated with the designs. How to accurately interpret research data from a variety of research experiments will also be discussed. The course will explore related issues relevant to identifying functional relations among environmental and behavioral variables in behavior analysis. This course provides credit hours toward educational qualifications required to sit for the behavior analysis certification exam.
Collaboration and Consultation Techniques
The course explores collaboration and consultation techniques among school-based teams to best support a range of learners in today's classrooms. The course will provide students with the background and knowledge-based to work collaboratively with school-based educators, parents, and outside agencies to improve student outcomes. Students will become familiar with the educator's role within the IEP process to strengthen educational partnerships through culturally responsive instruction and teamwork to assess, plan, and implement effective classroom environments.
Organizational Behavior Management
This course helps prepare students for management and supervisory positions within the field of applied behavior analysis. The course provides students with behavior analytic strategies for managing, supervising, and training personnel. The use of a functional assessment approach and function-based strategies, along with performance monitoring and feedback, will be reviewed.
Assistive Technology: Modifying the Curriculum for Diverse Learners
This course examines Assistive Technology in special education, ensuring compliance with Federal regulations under IDEA. Participants will explore best practices and strategies pertaining to the development and delivery of effective AT services. Topics include considering and assessing AT needs, integrating AT into IEPs, effective team collaboration, and implementing AT for low and high-incidence disabilities. The course also covers promising practices for AT selection, creating accessible educational materials, and the impact of UDL on AT.
Behavior Interventions
Contemporary developments and issues in ABA including behavior change strategies, recent developments in ABA, generalization and ethical use of treatment methodologies are addressed. This course if part of the educational qualifications required to sit for the behavior analysis certification examination.
ABA Fluency Seminar
This one-credit course is designed to strengthen students' ability to demonstrate key core knowledge competencies in the field of applied behavior analysis. During the course of the term, students will engage in a number of fluency-based instructional activities that will enable them to demonstrate knowledge in all of the BCBA task list content areas. Students will be required to practice these skills both during class sessions and via software specifically designed to support fluency training and competence demonstration. Students must demonstrate proficiency in each of the task list content areas in order to successfully pass this course, and pass a comprehensive final exam.
ABA Faculty
ABA faculty are Board Certified Behavior Analysts (BCBA). Other faculty listed on this page teach other programs/courses in the School of Education.
Pages
Admissions
Admission Test:

No standardized graduate school tests required for admission into non-licensure programs

Admissions Office:

1-800-829-4723

Application Form:
Application Fee:

$50 ($100 for international students)
Program Requirements
Applicants to the MEd programs that include the ABA course sequence must meet the requirements below before they may begin the ABA coursework.
Active employment in a relevant, related field with at least one year of experience in a ABA-based treatment setting.
Be working with or supervised by certified BCBA personnel. (Supervisor name and contact information must be submitted and verified upon program entry.)
Applicants must be prepared to pursue timely completion of the ABA course sequence, given that the sequence aligns with a particular edition of the exam approved by the national Behavior Analyst Certifying Board.
Health Requirements for Massachusetts Students
The Massachusetts Health Department and Cambridge College require the following of students in Massachusetts:
Immunizations – All students in Massachusetts are required to get certain immunizations before you can register for your first term. See form
Health Insurance – In Massachusetts, undergraduate students taking nine or more credits/term and graduate students taking six or more credits/term must enroll in the College's health insurance plan. Students who have insurance with comparable coverage may request a waiver. See information and enroll or waive.
School Requirements
Tuition
Credits:

38

Cost per credit hour:
Application Fee:

$50 ($100 for international students)

Health Insurance Fee:

$3,940 - Required for Massachusetts students only. See waiver details on Tuition & Fees page.)

Internship/Practicum Fee:

$400
Note: Rates are as of July, 2022, and are subject to change without notice. Rates apply to all students, unless otherwise noted.
Financial Aid
Cambridge College offers financial aid to students in our degree programs who are enrolled at least half time. Undergraduate students must be enrolled in at least 6 credits each term. Graduate and doctoral students must be enrolled in at least 4 credits each term. Learn more
Grants, Scholarships and Loans
Cambridge College welcomes the opportunity to support your efforts to pay for college. Federal, state and local resources in the form of grants, scholarships, loans and work-study, including Cambridge College Scholarships, are available to help defray the cost of tuition. Learn more
Getting Your Company to Help
Many companies have tuition assistance programs, designed to help their employees with their professional development. Learn more
Take the Next Step Toward Your Autism and Applied Behavior Analyst Degree