About Raul Galarza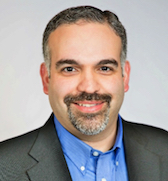 Dr. N. Raul Galarza has over two and a half decades of experience leading organizational change in enrollment management, B2C/B2B sales, support, instruction, and operations for a diverse group of large/mid/startup higher educational institutions in the Midwest and Northeast of the United States, as well as around the world in the Middle East, Egypt, Philippines, and Nigeria. Raul has a strong commitment to world equity, diversity and inclusion, beginning with his leadership in international and student clubs and underrepresented groups in the biological sciences during his bachelor's degree (University of Minnesota), in the design of an innovative academic advising model in his master's degree thesis (Capella University), and in his doctoral research (Northeastern University) on Hispanic/Latino student interactions leading to student access, retention, and satisfaction in an online university setting.
Raul has led organizational change through technology implementation, process improvement, and sales training as a founding member of Nexford University, and as strategic partner on various initiatives and stakeholder groups in the higher education industry. He also led large multi-function teams at Southern New Hampshire University, Capella University (MN), DeVry University (MN), and Dunwoody College of Technology (MN). His most recent engagement was at Northeastern University as the Asst. Vice President of Enrollment Management, leading student enrollment efforts for adults in bachelor's completion and graduate programs. In addition, he continues to develop future leaders in enrollment management through his teaching and curriculum development work with AACRAO in Washington D.C.
Raul is originally from Puerto Rico, where he spent most of his childhood including on a U.S. military base, and maintains his Hispanic/Latino cultural norms with his family on the south shore of Massachusetts.