2022 Speaker & Honorary Degree Recipients
An honorary degree is one of higher education's most significant accolades. It is the custom of Cambridge College to award honorary degrees to distinguished individuals who merit special recognition for achievement and distinction in a field or activity aligned with the mission and values of the College. In accordance with Board of Trustees procedures, the following individuals have been reviewed by the Board's Academic Affairs Committee for Doctorates of Humane Letters, and they are submitted for formal ratification prior to the Commencement Exercises on June 12, 2022.
Commencement Speaker and Honorary Degree Recipient
Darren W. McDew
General, United States Air Force (Retired)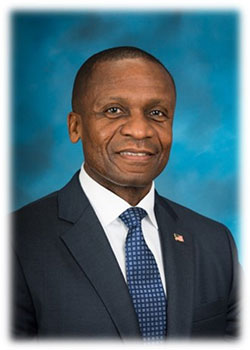 General McDew served with distinction in our United States military for 36 years. Throughout his career, he had the opportunity to lead at all echelons; culminating as the 12th Commander of the United States Transportation Command (USTRANSCOM). As a unified combatant command comprised of all the armed services, he served as the senior uniformed officer responsible for global air, land, and sea transportation, and patient movement for the Department of Defense.
General McDew was commissioned as an Air Force officer in 1982. His journey began as a pilot and continued through multiple operational leadership roles and unique assignments at the White House (Military Aide to the President), the Pentagon (Director of Air Force Public Affairs), Vice Director for Strategic Plans and Policy for the Chairman of the Joint Chiefs of Staff, and on Capitol Hill (Chief of Air Force Senate Liaison).
General McDew is a 2021 Institute for Defense and Business Fellow and also serves on the Boards of Directors of Abbott Laboratories, USAA, Parsons Corporation, Rolls-Royce of North America, and as a member of the Board of Governors of the Boys and Girls Club of America, of which he is also a member of the Alumni Hall of Fame.
General McDew received his Bachelor of Science, Civil Engineering, from Virginia Military Institute; his Master of Science, Aviation Management, from Embry-Riddle Aeronautical University and he was awarded an Honorary Doctor of Public Administration, Massachusetts Maritime Academy.
Honorary Degree Recipients
Rachael S. Rollins
U.S. Attorney for the District of Massachusetts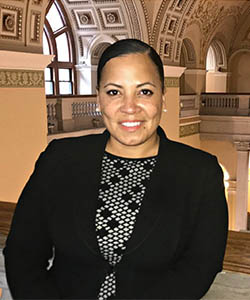 Ms. Rollins is the first Black woman to ever be confirmed as U.S. Attorney in the District. She was nominated by President Joseph R. Biden on July 26, 2021. The District of Massachusetts is one of the oldest United States Attorney's Offices in the country.
A Massachusetts native and an attorney for more than two decades, Ms. Rollins has served as Suffolk County District Attorney (DA) since 2019. She was the first woman to ever be elected DA in Suffolk County and the first woman of color to ever hold the position of DA in the Commonwealth of Massachusetts.
Prior to serving as Suffolk County DA, Ms. Rollins was the General Counsel for the Massachusetts Department of Transportation and the Massachusetts Bay Transportation Authority. She also served as Chief Legal Counsel to the Massachusetts Port Authority. From 2007 to 2011, Ms. Rollins was an Assistant U.S. Attorney for the District of Massachusetts serving in both the Civil and Criminal Divisions. Earlier in her career, Ms. Rollins was an attorney at Bingham McCutchen LLP, focusing on matters involving complex civil litigation and criminal defense, and from 1999 to 2002 she was a field attorney for the National Labor Relations Board where she investigated unfair labor practices and upheld workers' rights. Ms. Rollins began her legal career as a clerk for Associate Judge Frederick L. Brown of the Massachusetts Appeals Court.
Ms. Rollins earned a Juris Doctor from Northeastern University School of Law and a Masters in Law from Georgetown University Law Center. She graduated from the University of Massachusetts Amherst in 1994.
Gladys Vega
Executive Director
La Colaborativa (formerly known as the Chelsea Collaborative)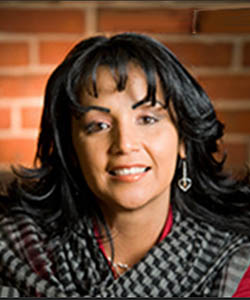 A pioneering community leader, Gladys Vega, Executive Director of La Colaborativa, is a firm believer that empowering individuals leads to empowering communities, and that empowered communities can use social action to achieve its goals. Her bold and tireless leadership has resulted in expanded rights for immigrants, low-income families, tenants, workers, youth and people of color across Massachusetts. 
A community with a large immigrant and Latinx community, low-wage workers and over-crowded housing, the city of Chelsea was one of the hardest hit communities profoundly impacted by the COVID-19 pandemic, further exacerbating a historical overlap in public health, unemployment, housing and hunger crises.  Like other Gateway Cities, Chelsea was disproportionately and devastatingly impacted by the pandemic and quickly became the epicenter of the pandemic.  Gladys and her team quickly sprang into action and lead with innovation to ensure equitable and inclusive access to testing, vaccines and community education.  Their model for community health distribution through local leadership, grassroots outreach and community participation led to Chelsea, which once had the highest COVID-19 transmission rates, transforming to have among the highest vaccination rates.  To address the growing food insecurities during the pandemic, Gladys created a pop-up food pantry on the front porch of her home providing 10,000 pounds of food to the community, that today still feeds over 11,000 families per week.
Ms. Vega is the architect of most of the Collaborative's community coalitions and has played leadership roles in also organizing for immigrants' rights, tenants' rights, welfare rights, open space and the environment, multicultural and anti-racism programs, and numerous grassroots campaigns.  Under her leadership, La Colaborativa serves as a trusted resource to Massachusetts' immigrant community, including newly-arrived immigrants, undocumented families, and low-income tenants and workers.
Gladys's bold leadership positioned La Colaborativa at the forefront of state and local efforts to meet the tremendous needs of Latino residents across Massachusetts.  Her work has been widely recognized and commended by many including Eastern Bank who honored Gladys with their 2021 Social Justice Award for her outstanding impact in addressing critical social justice issues in the city of Chelsea, and the Boston Globe selected Gladys as one of the 2020 Bostonians of the Year.